In the last 15 years I, like many of you, have lost loved family members, close friends and influential people that I looked up to.
In many cases the funerals did very little to reflect the life of the person and were all pretty much the same.
As a result of this I dreaded going to any funeral. They were all pretty much the same formula.
When my lovely mother-in-law died, after battling Alzheimers. I was asked to arrange the funeral and was determined to make it reflect her true personality.
The family members all took part in choosing and organizing the event and we gave her a great, highly personalised Send-Off.
After Mu's funeral I knew I wanted to be involved somehow, someway in the Funeral Profession and went to work and train with a large independent funeral director in Newcastle and I have never looked back.
Helping and supporting people in the fairest way possible, at one of the most difficult times imaginable, is more than just a job to me and much more meaningful than anything else I have done.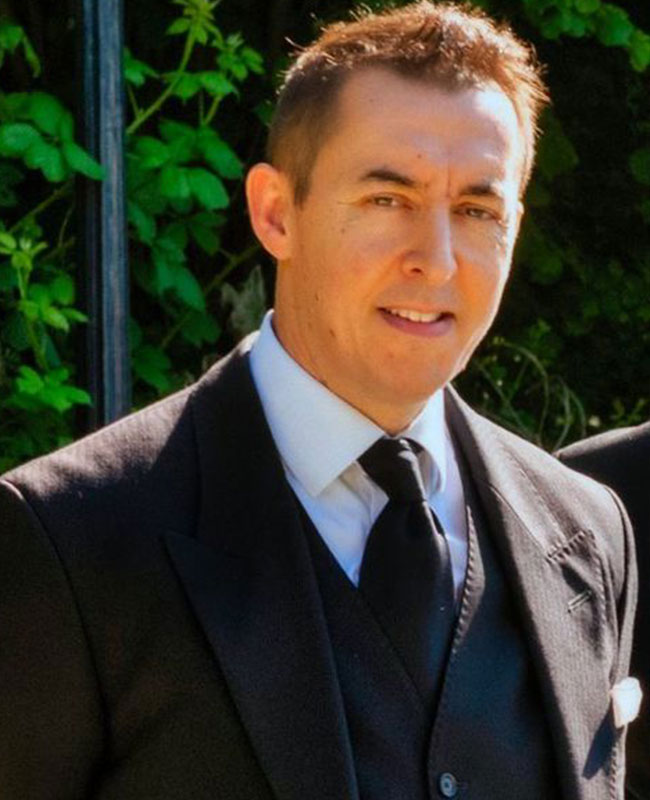 Tim Kirkup – Independent Funeral Celebrant
I am a qualified independent funeral celebrant, practised in helping families create a unique and authentic ceremony for someone who has died.
Ensuring that a funeral goes as well as possible is one of the best things you can do – not only for the deceased person, but also for those left behind – their family and friends.
Having an independent celebrant allows you to do things your way.  Getting the words and music you want – as well as the décor, the flowers, even what people are asked to wear – these are all very personal choices.  I can help you put together the content of your ceremony, and lead some or all of it on the day – anchoring the event for you to say goodbye.
I am a skilled communicator, having worked for many years in education.  Since 2014, I have been extensively involved with activities for people with dementia, winning an Alzheimer's Society People's Award in 2017, and North Yorkshire's Volunteer of the Year in 2018.
Just to thank you for the wonderful send off you gave Dad.  You did him proud.  You got him off to a tee. 
Just wanted to thank you for a wonderful, thoughtful service.  Your words warmed everybody's heart
We didn't know what we wanted as a send off for my brother but my mum knew what she didn't want.  Mark was spot on with teasing out the details.  Tim's attention to details for the eulogy and finding out our best memories was so easy and Pete's arrangement of a bike procession was perfect.  It's made us think totally differently about funerals.  A huge heartfelt thanks for helping us all through the last 3 weeks. 
 What you wrote and said for C on Friday was very, very special…and very moving…
 The time you gave me and my brother during this difficult time will never be forgotten.  Everyone commented on how lovely the words were and how well it went.
Our Ethos
Its just so lovely when someone takes the time to write a review. This review in particular is a reflection of what we strive for with every family
I have genuinely heard nothing but praise and thanks from anyone who has used this company. Mark truly let me choose exactly what I wanted for my dad's service, there was no stuffiness or pompous behavior – but equally, there was ultimate respect throughout, with very down to earth honest discussions. He guided me perfectly through one of the most difficult times of my life so far – and stayed in touch throughout the whole thing. Mark – I wish you the very best with your amazing business, it's one in a million and I thank you from the bottom of my heart." – A Johnson
We will never tell you what 'should be done' but will support you to understand and consider your choices. So that you can decide what is right for you and your loved one.
Helping Families to Help with the Funeral
Some people reflect on a funeral and realize, some time later, that they could have made it far better and much more personal if they had been given some additional help. One thing we therefore like to encourage, where appropriate, is to get families and friends more involved in the funeral of a loved one.
You only get to do a funeral once and we want to make sure its done YOUR way, not somebody else's way.
However, many families just want something quick and simple as this allows them to move on to the next stage of their lives.
There are no rules. Apart from yours!
Funerals and Costs!
Organising a funeral is not something any of us looks forward to. As a result many people will simply pick the first name that comes to mind and then embark upon an unnecessarily expensive process that may or may not be appropriate for them
Special Send-Offs guarantee that you will be offered the best, most personal service along with very straightforward pricing. We don't work on commission or have any sales targets.
Many people state they do not want their family spending lots of money on their funeral, however most people do very little to actually ensure they specify the funeral they want at the cost that they want.
A funeral Director should be able to tell you straight away, over the phone, what the cost will be; Don't be drawn into a situation where you are sold something you don't need, do not want or maybe not able to afford.
Special Send-Offs will ensure you get the funeral you want with no hidden costs. Your Funeral. Your Way.