Prepaid Funeral Plans
Many people state they do not want their family spending lots of money on their funeral! However many people do very little to actually ensure they specify the funeral they want at the cost that they want.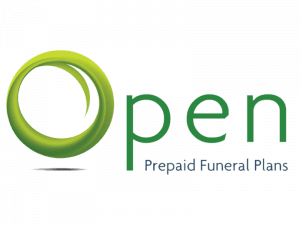 Talking about your own or a loved ones funeral is not something any of us want to do. In doing so though, you remove from your family many difficult decisions and ensure that your final wishes are recorded. Decisions your family find difficult to make at the time can be discussed now and accurately recorded for the time of need. Many thousands of people are now taking out a prepaid funeral plan every year. It gives them financial and emotional peace of mind. We have used Open Prepaid Funerals Limited because they provide the best value for clients and the best security for funeral directors at the time of need. For more details contact us directly or request a brochure.
Although prepayment of your funeral is for many a very comforting thing to do, you may decide that prepaying is not for you but you would still like to try and make sure all your wishes are carried out without the financial burden. This is entirely possible by completing our plan application form and simply keeping this as a written statement of your wishes. Please ask us and we can post one to you. This can then be kept with your Will and we can have a copy also if you want.
Please download our form below and complete digitally or complete by hand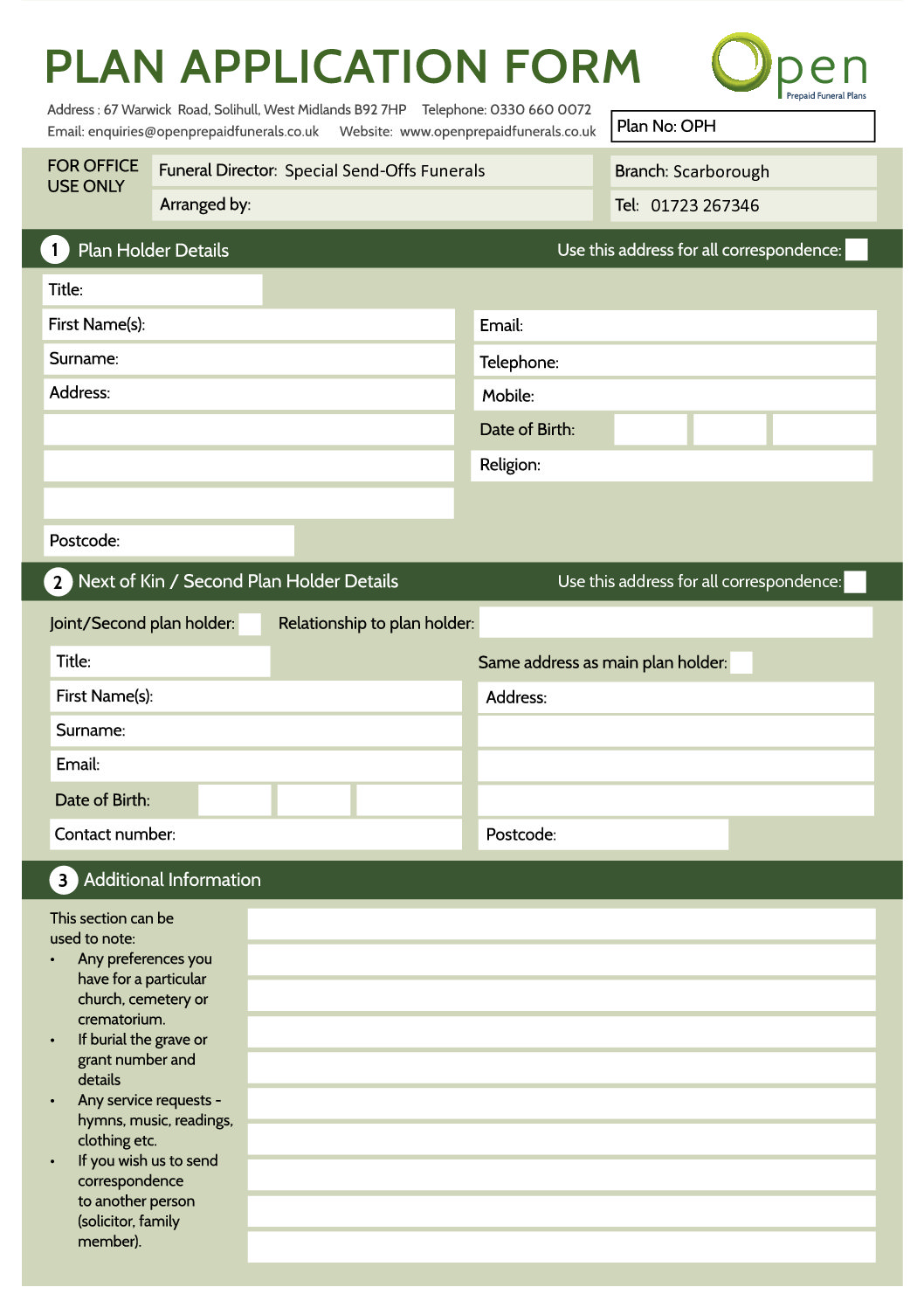 Important Questions
Firstly, how to compare pre-paid funeral plans: Sometimes the answers are hidden in the fine-print so I have put them at the top of the page!
1 What are the cancellation charges? Ours = £0
2 What are the admin fees? Ours = £195
3 What is the average yearly interest rate on the plan over 10yrs? Ours = £3.3%
4 Do you pay interest on the FD costs and the 3rd Party Costs? Ours = Both
5 What is the 3rd party Contribution? Ours = £1,174 (2020)
6. Can plans be personalised? Ours = Yes, completely
Below are the commonly asked questions pretty much in the order I get asked them. I am also asked why our Funerals and Funeral Plans cost less than many other Funeral Directors. The answer to that is mostly because we keep our overheads down through careful spending and make less profit than many of the bigger companies.
There are some companies that may cost less than we do BUT this comes at a risk to you and also them! Some offer such low prices that someone in your family will inevitably have to pay a top-up fee come the time the funeral is needed. The low price is to tempt you to make a purchase. Do your homework first and avoid the cheapest and also the most expensive!
What happens to my money if your business closes or changes hands?
Your money is safe within a Trust Fund; you don't pay the money into Special Send-Offs for this very reason! It is paid into a Funeral Planning Authority approved Trust fund operated by Open PrePaid Funerals.
Can I get all my money back if I decide to cancel the plan?
Yes. You can cancel and get all of your money back apart from the £195 admin fee. You get ALL the money you put in back. Details in our terms https://www.openprepaidfunerals.co.uk/terms
How much interest do I earn per year?
In the last 10 years the average interest rate has been 3.3%. Its important to note this is on the whole plan value! If you are comparing plans ask if you earn interest on the total plan value!..and at what rate, many are just CPI.
What if you put your prices up?
The Funeral Director costs in your plan become fixed and they can't be increased therefore you are protected from price increases.
What are Third Party Costs and what do you contribute to these?
Third party costs are sometimes called Disbursements. These are cremation / burial costs, Dr's fees and Celebrant / Vicar's fees. These costs are not within our control. At the time of writing we put £1,174 into the plan. Please call to confirm. Scarborough 01723 267 346.
What if we want to add or change things on the plan?
This can be done by us, or by you, at anytime either by phone or by email. Payment additions can be made if you want to also. There are no admin charges for making changes to your plan
Can I change my plan from my existing company to you?
Yes you probably can dependent on what type of plan you have. If you are in a scheme paying into a plan for your lifetime then you may lose everything if you stop payments! Always check the fine-print! We won't advise you to change plans until the key checks have been made. Call us and we will help you to find out.
What if we move? Is our special Send-Offs pre-paid funeral plan still valid? Will there be additional charges?
The plan is still valid. There may be additional travel costs but these will be sensible and based on a mileage rate and hourly rate. Different area crematoria have varying prices compared to Woodlands Crematorium, Scarborough; these may increase or decrease the cost.
We use Open Pre-Paid Funerals. www.openprepaidfunerals.co.uk.
They are a registered provider of the FPA (Funeral Planning Authority) and are the only funeral plan provider to be recommended by the www.goodfuneralguide.co.uk The UK's only not-for-profit independent funeral information resource for funeral advice.