RENNARD Constance Lillian
(Connie) (née Sheader)
Died peacefully at home on 11th August 2020, aged 95 years.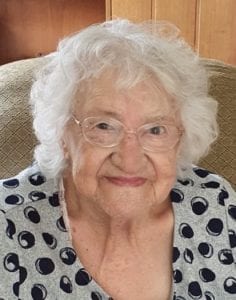 Much Loved and loving wife of the late Allen, sister to the late Bill and Edna. A devoted mum, mother-in-law, grandma and great-grandma.
Family service at St Mary's Church on Thursday 20th August at 2pm.
Donations in Connie's memory to St. Catherines Hospice.
Safe in God's keeping.
Night Night God bless, Mam x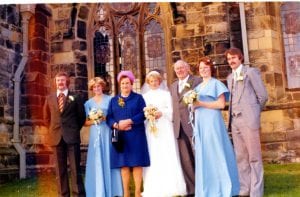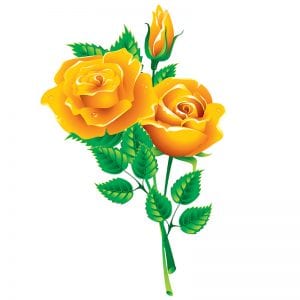 St Mary's Church. Scarborough A service of thanksgiving for the life of
Constance Lillian Rennard Marilyn Armstrong
(Connie)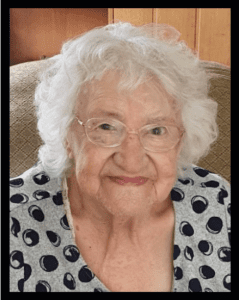 "Our CON"
1st January 1925 – 11th August 2020
Jesus said: "I am the Resurrection and the Life"
Processional Music
The Lord's My Shepherd. (Crimmond)
Welcome:
Rev. Richard Walker
Prayer
Hymn:
Abide With Me Abide with me; fast falls the eventide; The darkness deepens; Lord with me abide. When other helpers fail and comforts flee, Help of the helpless, O abide with me. Swift to its close ebbs out life's little day; Earth's joys grow dim; its glories pass away; Change and decay in all around I see; O Thou who changest not, abide with me. I need Thy presence every passing hour. What but Thy grace can foil the tempter's power? Who, like Thyself, my guide and stay can be? Through cloud and sunshine, Lord, abide with me. I fear no foe, with Thee at hand to bless; Ills have no weight, and tears no bitterness. Where is death's sting? Where, grave, thy victory? I triumph still, if Thou abide with me. Hold Thou Thy cross before my closing eyes; Shine through the gloom and point me to the skies. Heaven's morning breaks, and earth's vain shadows flee; In life, in death, O Lord, abide with me.
Poem She is gone by David Harkins Read by granddaughter Emma
You can shed tears that she is gone Or you can smile because she has lived You can close your eyes and pray that she will come back Or you can open your eyes and see all that she has left Your heart can be empty because you can't see her Or you can be full of the love that you shared You can turn your back on tomorrow and live yesterday Or you can be happy for tomorrow because of yesterday You can remember her and only that she is gone Or you can cherish her memory and let it live on You can cry and close your mind, be empty and turn your back Or you can do what she would want: smile, open your eyes, love and go on
Poem I Am Standing Beside The Seashore By Henry Van Dyke Read by grandson Christopher
I am standing upon the seashore. A ship at my side spreads her white sails to the morning breeze and starts for the blue ocean. She is an object of beauty and strength. I stand and watch her until at length she hangs like a speck of white cloud just where the sea and sky come to mingle with each other. Then, someone at my side says; "There, she is gone!" "Gone where?" Gone from my sight. That is all. She is just as large in mast and hull and spar as she was when she left my side and she is just as able to bear her load of living freight to her destined port. Her diminished size is in me, not in her. And just at the moment when someone at my side says, "There, she is gone!" There are other eyes watching her coming, and other voices ready to take up the glad shout; "Here she comes!" And that is dying.
Reading Psalm 23 Read by daughter Pamela
The LORD is my shepherd; I shall not want. He makes me lie down in green pastures. He leads me beside still waters. He restores my soul. He leads me in paths of righteousness for his name's sake. Even though I walk through the valley of the shadow of death, I will fear no evil, for you are with me; your rod and your staff, they comfort me. You prepare a table before me in the presence of my enemies; you anoint my head with oil; my cup overflows. Surely goodness and mercy shall follow me all the days of my life, and I shall dwell in the house of the LORD forever.
Eulogy
Music from Les Miserables
( Connie's favourite show )
Bring Him Home sung by Colm Wilkinson
God on high, hear my prayer In my need, you have always been there He is young, he's afraid Let him rest, heaven blessed Bring him home Bring him home Bring him home He's like the son I might have known If God had granted me a son The summers die, one by one How soon they fly, on and on And I am old and will be gone Bring him peace, bring him joy He is young, he is only a boy You can take, you can give Let him be, let him live If I die, let me die Let him live Bring him home Bring him home Bring him home
PRAYERS
Commendation
Blessing
Recessional Music
Think of Me from The Phantom of the Opera
Think of me, think of me fondly When we've said goodbye Remember me, once in a while Please promise me you'll try When you find that once again you long To take your heart back and be free If you ever find a moment Spare a thought for me We never said our love was evergreen Or as unchanging as the sea But if you can still remember Stop and think of me Think of all the things We've shared and seen Don't think about the way Things might have been Think of me, think of me waking Silent and resigned Imagine me trying too hard To put you from my mind Recall those days Look back on all those times Think of the things we'll never do There will never be a day When I won't think of you
Commital Service Scarborough Crematorium Woodlands Drive Scarborough
Music on Entry The 12th of Never – Johnny Mathis
You ask me how much I need you, must I explain? I need you, oh my darling, like roses need rain You ask how long I'll love you, I'll tell you true Until the Twelfth of Never, I'll still be loving you Hold me close, never let me go Hold me close, melt my heart like April snow I'll love you 'til the bluebells forget to bloom I'll love you 'til the clover has lost its perfume I'll love you 'til the poets run out of rhyme Until the Twelfth of Never and that's a long, long time Until the Twelfth of Never and that's a long, long time
Poem Afterglow Read by grandson Craig
I'd like the memory of me to be a happy one. I'd like to leave an afterglow of smiles when life is done. I'd like to leave an echo whispering softly down the ways, Of happy times and laughing times and bright and sunny days. I'd like the tears of those who grieve, to dry before the sun of happy memories that I leave when life is done.
Bible reading – Rev Richard Walker John Chapter 14. Verses 1 – 6
Let not your heart be troubled: ye believe in God, believe also in me. In my Father's house are many mansions: if it were not so, I would have told you. I go to prepare a place for you. And if I go and prepare a place for you, I will come again, and receive you unto myself;that where I am, there ye may be also. And whither I go ye know, and the way ye know. Thomas saith unto him, Lord, we know not whither thou goest; and how can we know the way? Jesus saith unto him, I am the way, the truth, and the life: no man cometh unto the Father, but by me.
Recessional Music Because You Loved Me. – Celine Dion
For all those times you stood by me For all the truth that you made me see For all the joy you brought to my life For all the wrong that you made right For every dream you made come true For all the love I found in you I'll be forever thankful, baby You're the one who held me up Never let me fall You're the one who saw me through Through it all You were my strength when I was weak You were my voice when I couldn't speak You were my eyes when I couldn't see You saw the best there was in me Lifted me up when I couldn't reach You gave me faith 'cause you believed I'm everything I am Because you loved me You gave me wings and made me fly You touched my hand; I could touch the sky I lost my faith, you gave it back to me You said no star was out of reach You stood by me and I stood tall I had your love; I had it all I'm grateful for each day you gave me Maybe I don't know that much But I know this much is true I was blessed because I was Loved by you, ooooh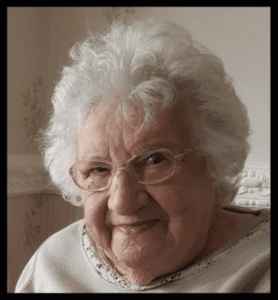 A life well lived and full of love, compassion, guidance and forgiving for all her family and everyone who met and got to know her.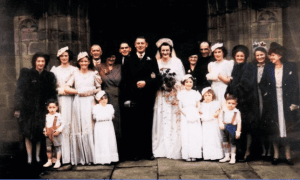 "Night, Night, God Bless" You know we loved you all. xxxx